Share This: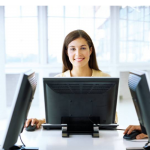 Because you're so busy with the day-to-day aspects of your business, you have no time left to offer to a new client and get paid for it.
One of the best ways to get more clients and make more money in your business is to outsource and delegate things that you're doing right now that don't really bring in that much money.
What should you delegate?  There are three or four things that you can start delegating right away, especially if you are on a shoestring budget and you are someone who is just hiring their first admin or virtual assistant.
The first thing that you want to start delegating is anything that you're not good at doing. If you're not good at doing it, especially if it's administrative and does not bring money into the business, you must outsource or delegate.  Start by writing down all the things that you are not good at doing in your business and let's outsource and delegate those items.
Next are the things you just don't know how to do.  An example is to delegate and outsource today is website/blog management because creating and maintaining a web presence is so vital to today businesses.  Therefore if you are not ready to learn html an SEO then delegate and outsource.
Third, is the stuff that you simply don't have time to do that eats up all of your time.  Is your business growing and you are finding it hard  and harder to do the scheduling on your own, why not delegate and outsource to somebody who can better take care of your calendar and other administrative tasks as you continue to take care of your growing list of clients.
Finally, delegate anything that does not make you money, that is out of your core business expertise, and outside of your brilliance work.
The money you make from delegating these tasks can actually be used to pay for the person you have just hired to allow you to grow your business.
Share This: