Share This:



Do you take a vacation?
A June 2014 study conducted by Gallup, one of five Microbusiness owners takes no vacation per year.   21% of these business owners took just five (5) days off per year.
Another group (20% took one to two weeks. A total of 61 percent of those who take off from work for a vacation find it very difficult to detach completely to what's going on back in the office.   And 38% were able to disconnect completely taking three weeks or more.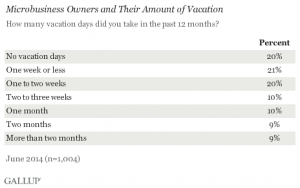 Share This: